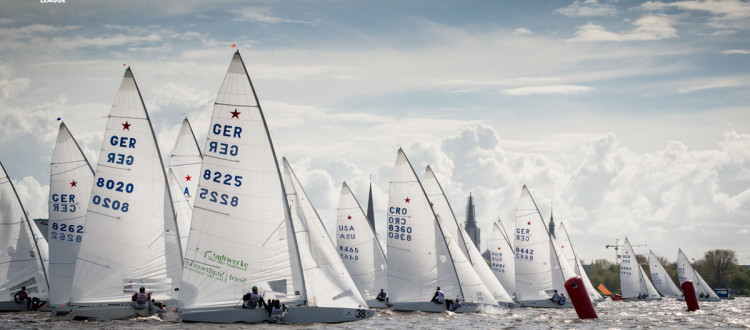 Melleby and Revkin Win First Day at SSL City Grand Slam
Three heats, nine races and 86 Star teams
, commenced battle on the 
first day of racing at the inaugural Star Sailors League City Grand Slam on Lake Alster, Hamburg, Germany. 
There were a few surprises as the rapidly changing conditions caught out many of the teams taking part, resulting in several World Class Star Sailors failing to
make the top ten after three races. With two more days of racing in the qualifying rounds scheduled, it is still early days but today's conditions showed that Lake Alster is an exceptionally challenging place to race. The key to today's top performers was starting well and keeping your 'head out of the boat' to anticipate changes in the wind.
The Norwegian and American team of Eivind Melleby & Josh Revkin put in a stellar performance today and lead the 86-strong Star Class fleet after three races. Melleby has been away from the Star fleet for some time but his young crew from Connecticut USA is a rising star, having come third in last
month's Star World Championship with Brian Ledbetter. Melleby & Revkin were competing in the last heat of the day and won all three races but it was far from easy. "We had to fight all the way." commented Eivind Melleby. " There are many world class sailors at the regatta and many more that know this lake very well. To be honest, I am a little surprised that we were so quick. The last time I raced was over a year ago but our speed was very good and so was our starting procedure."
Mateusz Kusznierewicz & Dominik Zycki scored two straight bullets and a rare tie for first place in the last race with Diego Negri & Sergio Lambertenghi. Dominating two of today's races, puts the Polish team in second place overall after three races. "I have grown up sailing on lakes, so this was not unusual for me. Dominik and I have not sailed together as often as some of the other teams but in the past we have sailed together for so long and we have a fantastic understanding, it is like knowing how to ride a bicycle. It was our good starts and boat speed that were gave us the results today."
The young American team of Luke Lawrence & Ian Coleman put in a top class performance, scoring a win and two second places to end the day third overall. Lawrence & Coleman are one of the youngest teams racing at the SSL City Grand Slam and came fifth at last month's Star World Championship in April. "We got off the line well today and kept in simple." commented Luke Lawrence. " For the short first upwind leg, we decided to go for the right hand side of the course, as coming in on starboard tack was nearly always going to pay. Even if the left had a better breeze or a bit of bias, it is far better to come into the first top mark with rights."
Other top performers today included local sailors, Johannes Polgar & Markus Koy, who finished the day in fourth place and fellow Germans, Michael Koch & Carsten Witt, who finished the day in fifth place. Racing resumes tomorrow for the second day of the qualifying rounds, light winds are forecast for the day.
Full coverage of all five days of action will be streamed live on the Internet for FREE, with expert commentary from special studio guests, including Dennis Conner. On the water, the latest in hi-tech camera technology, as well as Virtual Eye 3D Graphics, will provide thrilling viewing. Armchair sailors can also race the course withVirtual Regatta.
To watch the races from Tuesday, May the 3rd at 10 AM to Saturday, May the 7th:
http://city.starsailors.com/