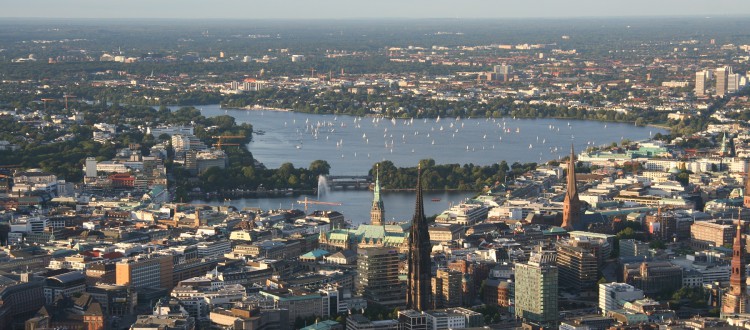 Hamburg, Gateway to the World and home of first SSL City Grand Slam
Hamburg – The Gateway to the World
Hamburg, is a major port city in northern Germany and with a population of about two million people, it is the second largest city in Germany. Hamburg is considered to be Germany's richest city, and the country's capital city for media, design and music. After New York and London, Hamburg is the world's third largest musical metropolis. Hamburg's architecture is a fusion of exciting contrasts; post-modern glass and steel façades, mansions of past centuries, baroque churches and historic residential districts.
Connected to the North Sea by the Elbe River, Hamburg has a proud seafaring history and nicknamed "The Gateway to the World". The city is crossed by hundreds of canals, and also contains large areas of parkland. Its central Jungfernstieg boulevard connects the Altstadt (old town) and the Neustadt. At the heart of Hamburg is Lake Alster, the locals call it their living room, surrounded by cafes and restaurants, the shore of Lake Alster is a popular rendezvous for the people of Hamburg. The host club for the SSL City Grand Slam, Norddeutscher Regatta Verein (NRV) is right on the shore of Lake Alster. Established in 1868, the NRV is one of the oldest yacht clubs in Germany and with 2000 members, one of the largest in the country. Lake Alster will be an amazing stadium for the first ever SSL City Grand Slam!
How to get to Hamburg
By air, rail or road – Hamburg has excellent worldwide travel links. Hamburg Airport offers direct international connections to Europe, America, Africa and Asia. With the new ICE route, Hamburg is just 90 minutes by train from Berlin. By road, Hamburg is part of the international motorway network, with excellent links to the whole of central and northern Europe.
Arrival by air:
With more than 170,000 flights and around 12 million passengers per year, Hamburg Airport is served by most German and foreign airlines. Almost every large European city has direct flights to Hamburg with flight times of between 1-3 hours. There are non-stop intercontinental services from Dubai and New York. By rail, the Airport Express reaches the city centre within 20 minutes.
Arrival by rail:
With its four long-distance stations: Hauptbahnhof (centre), Dammtor (centre), Altona (west) and Harburg (south) – Hamburg is part of the European high-speed rail network. In addition to Hamburg's main rail stations, ICE trains service other parts of the Hamburg metropolitan region.
With Hamburg as the main rail hub for Northern Germany, all the main cities in Germany can be reached within a few hours (Munich – 6 hours, Stuttgart – 5 hours, Cologne – 4 hours, Frankfurt – 3 hours). There are also direct trains from Copenhagen and Stockholm.
Arrival by car:
Hamburg is the North German hub for road traffic. South Germany and Scandinavia by the A7 motorway, while the A1 (Lübeck-Bremen-The Ruhr) links Hamburg with the Baltic and West Germany. The A24 leads to Berlin and Eastern Europe and the A23 (towards Heide) directly to the North Sea.
HVV Public Transport
One ticket, one pricing system and one integrated network of public transport services. The HVV Public Transport system will get you around Hamburg quickly and efficiently.
Accommodation
Hamburg has a huge range of hotels from luxury, designer hotels and spas to cheap and cheerful accommodation for a small budget.
For more information about the City of Hamburg, there is an excellent official web site: http://www.hamburg.de/