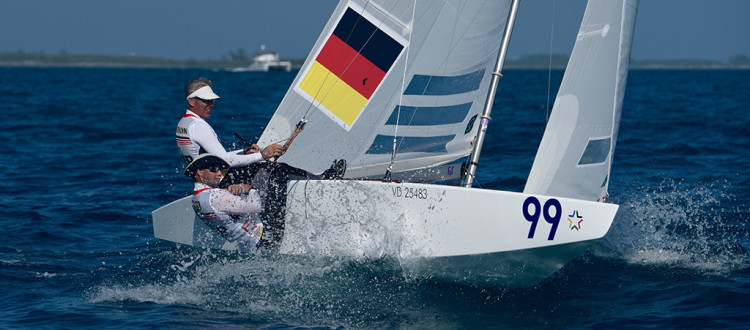 Jochen Schümann: the missing German
Jochen Schümann is considered to be Germany's most successfull sailor of all time. Jochen has competed at four Olympic games, winning three Gold medals and one Silver medal in the Finn and Soling Class and won the America's Cup on two occasions with Swiss team Alinghi. Jochen has won the ISAF World Sailor of the Year Award and, in recent years, has skippered Maxi Esimit Europa 2 to numerous line honours wins and world records in offshore racing. In December 2015, Jochen Schümann was a VIP for the Star Sailors League (SSL) Finals in Nassau, Bahamas, sailing with fellow German crew, Ingo Borokowski. Despite not having sailed in a Star for years, the pair made the knock-out stage of the SSL final day.
"Having competed at the SSL Finals in Bahamas last December, I found it a fantastic event with the very best racing standards ashore and on the water. Thank you to Michel and his team, for providing boats and sails and running a perfect live streaming on the internet for all the fans around the world and doing a lot more to facilitate this event. I was happy with our performance in Nassau, we have been very satisfied with our qualifier races – being 5th on even points with Hamish Pepper after 7 races. We were not the fastest upwind, but we did well downwind and showed quite consistent results above our expectations. The rather light wind conditions suited us. Nevertheless the first knock out round hit us hard – after a very good start, we got on the wrong side of a 30° wind shift…. Out and finally 11th only :-((
"It is a shame not being able to join the SSL City Grand Slam – I would love to be there!! I do have other commitments. I am sailing on Wally 107 at the Palma Vela Regatta on the same days, as part of yearly Wally circuit.
"The Alster in the middle of Hamburg is great venue for the SSL concept; though the lake is small and there will be difficult conditions…the spectacle will be GREAT!! It is really a shame that my calendar does not allow me to sail in SSL City Grand Slam. It is great to have an SSL event in Germany and I like lake conditions, having grown up sailing on lakes in Berlin.
"In Hamburg, the best German Star Sailors will be competing against champions. SSL sailing is the best level of Star boat racing at this time – bringing the best current crews and former World and Olympic Champions together on the racecourse in a spectacular format – thank you Michel! German fleets are very strong and have a great tradition with lots of former Champions. Everyone will admire and enjoy the racing in the middle of Hamburg. 
"If I was coaching local sailors, the advice I would you give them about taking on the top Star Sailors in the world?
– Nobody can walk over water! Including the champions… it will be difficult conditions.
– Focus on your own race – sail normal.
– Minimize your risk (NO premature starts, NO penalties)
– It is not about winning – It is about getting to next round (challenging enough!!)
– Have a training weekend before with your crew – prepare!!
"The people of Hamburg will see the SSL fleet fill the Alster with white in the heart of their city; white star boats and white sails all over!! It will look spectacular and they can follow results and racing, positions on tracker, with commentaries online and ashore!
"I am looking forward to come back into the Star boat at the end of the summer, racing some local Star boat events in Germany and preparing for SSL Finals again, if I am good enough." – Jochen Schümann
Live Coverage from Hamburg May 3rd – 7th, 2016
At the SSL City Grand Slam, hosted by Norddeutscher Regatta Verein, Hamburg, Germany, over 90 teams will be competing from 18 different countries. With many Olympic medallists and Star World Champions racing, the action will be fantastic!
Full coverage of all the action will be streamed live on the internet with expert commentary from special studio guests. On the water, the latest in hi-tech camera technology, as well as Virtual Eye 3D Graphics, will provide thrilling viewing. Armchair sailors can also race the course with Virtual Regatta.
For more information visit the official SSL City Grand Slam website: http://d40hnaevzk.preview.infomaniak.website
Louay Habib